Introduction
Have you been looking for a trusted web design agency to help create and build your website? Look no further, as Web Design Solutions Wales is here! We are proud to have recently achieved CSSWinner recognition, which adds an extra layer of quality assurance for your web development needs. Check out our CSSWinner profile here, where we will regularly update our portfolio of websites. With our team of experienced designers and developers, we can help you create the perfect site that meets all your required specifications. Whether you're going for a professional look or something more stylish and modern, we have the skill set to make it happen. Keep reading to learn why choosing us will be one of the best decisions you'll ever make!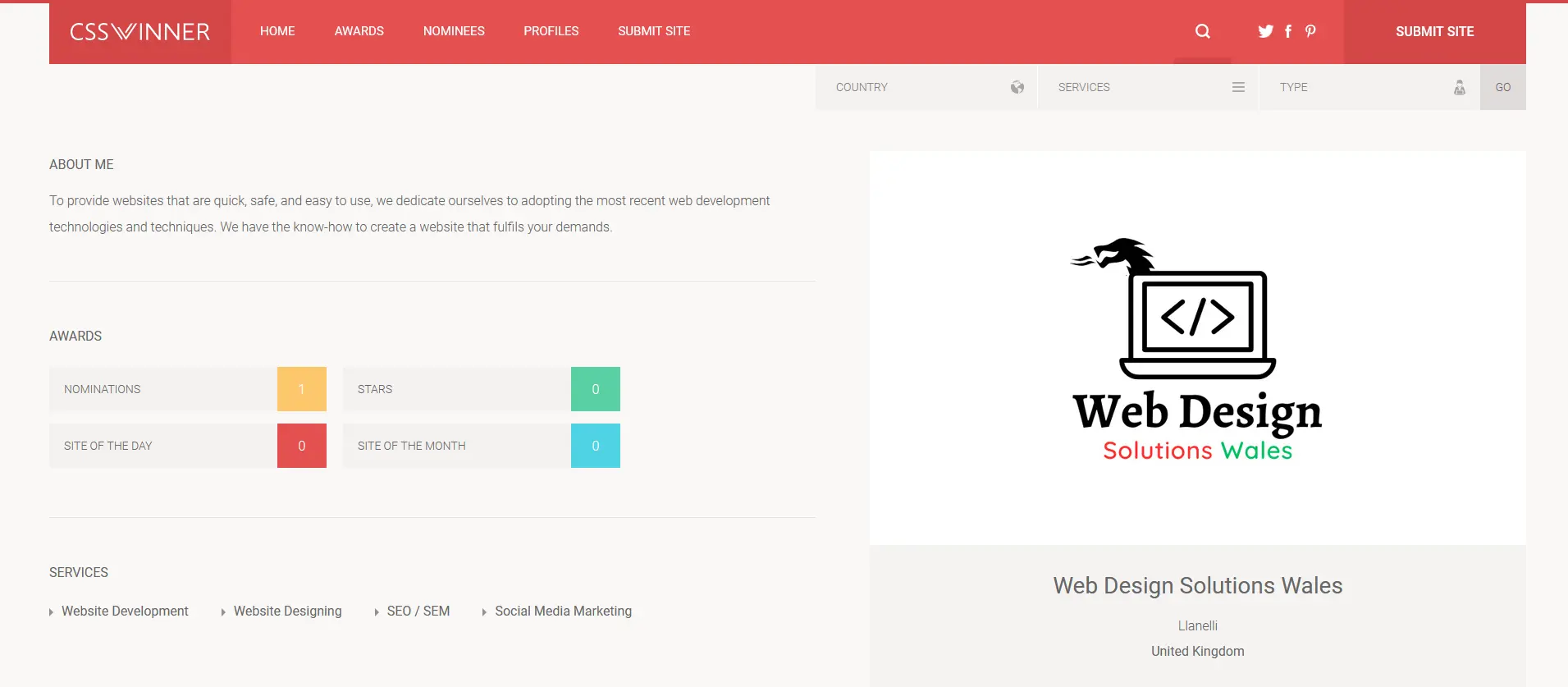 Introducing Web Design Solutions Wales – our mission, goals, and how we are now proud to be recognised on CSSWinner
Welcome to Web Design Solutions Wales, where we are passionate about creating innovative and effective web designs to help our clients succeed in the ever-evolving digital world. Our mission is simple: to provide bespoke, tailored solutions to meet our client's unique needs and exceed their expectations. Our team of skilled professionals works tirelessly to deliver user-friendly designs that are visually stunning, responsive and fully functional. We are proud to announce that CSSWinner, one of the most prestigious award platforms in the industry, has recognised our commitment to excellence. We are excited to continue striving for excellence and delivering top-quality service to our clients. Join us on this journey, and let us take your website to new heights!
The Benefits of Working with a CSSWinner-Recognised Agency
Working with a CSSWinner-recognised agency can provide numerous benefits for your website. These agencies are recognised for their exceptional web design and development skills, which means they can create a website that looks great and functions smoothly. With their experience using the latest technologies, you can be assured that your website will be up-to-date, secure and user-friendly. CSSWinner-recognised agencies consistently deliver quality work that meets the needs and preferences of clients. They are also adept at providing custom-made solutions that cater to unique business needs. By working with such an agency, you can save time and resources while ensuring a better return on your investment.
Our Range of Services – from creating custom websites to SEO optimisation
Are you looking for help with your online presence? Look no further than our range of services! We specialise in creating custom websites to fit your unique needs and branding. But it doesn't stop there – our team is also skilled in SEO optimisation to ensure that your website ranks high in search engine results. We believe in providing comprehensive solutions to help you achieve success online. Let us help you take your business to the next level.
What Makes Web Design Solutions Wales Unique – Our approach to web development and design
At Web Design Solutions Wales, we pride ourselves on our unique web development and design approach. We understand that every business is different and that its website should be tailored to its needs. That's why we take the time to get to know our clients and their goals before we start any project. Our designers and developers work closely together to create a website that looks great and functions flawlessly. We use the latest technology and techniques to ensure your website is fast, secure, and responsive across all devices. With our attention to detail and passion for creating top-quality websites, we're confident we can help take your online presence to the next level.
A Look at Some of Our Recent Projects – showcasing our work and highlighting customer satisfaction
We take pride in our recent projects and are excited to showcase them. Our work speaks for itself, from unique and challenging designs to innovation-driven solutions. What sets us apart is the satisfaction of our customers. We understand that our success depends on their success. Therefore, we work closely with each client to meet their needs and aspirations. Our team of experts use their creativity, skills and attention to detail to create a finished product that exceeds expectations. At the end of the day, there's nothing better than seeing a satisfied customer who is genuinely thrilled about the final result.
How You Can Get in Touch With Us
At our company, we understand that communication is vital. That's why we make it easy for you to contact us. Whether you prefer to pick up the phone, send an email or connect with us on social media, we've got you covered. Our contact details are on our website, along with further information about our services. Don't hesitate to reach out to us with any questions or concerns. We value your feedback and are always happy to assist you in any way we can.
Through our recognition on CSSWinner, we at Web Design Solutions Wales are proud to be considered one of the leading development and design agencies in the UK today. Our hard work and dedication to creating unique website designs while providing excellent customer service have helped us rise above many other companies. Whether you are looking for customised website designs and optimisation or want guidance from our dedicated professionals, our team is here and willing to help. Contact us now to explore how we can help your business reach its goals!