Why choose Web Design Solutions Wales?
We are an established web development agency with over 15 years of experience, specialising in creating websites of all types and providing digital marketing services to businesses in Wales and across the UK.
Our digital marketing process has been designed to help you succeed online. We offer various services, including competitor analysis, keyword research, on-site and off-site SEO, social media marketing, PPC campaigns, and more. We work closely with our clients to develop custom digital marketing strategies that drive traffic, increase leads, and improve conversions.
Whether you're looking to improve your search engine rankings, reach more customers on social media, or launch a successful Pay-Per-Click ad campaign, we've got you covered. With Web Design Solutions Wales, you can trust that your digital marketing efforts are in good hands.
We understands the importance of Search Engine Optimisation (SEO) in driving traffic and generating client leads. We employ various techniques to ensure that our client's websites rank high in search engine results pages (SERPs) for relevant keywords.
One key aspect of our SEO strategy is conducting thorough keyword research to identify the most effective keywords for each client's business. We then use these keywords strategically throughout the website, including page titles, meta descriptions, and content. We also optimise images, videos, and other media to ensure they are search engine friendly.
Another important aspect of our SEO strategy is link building. We work to establish high-quality links from reputable websites to our client's websites. This improves search engine rankings and increases visibility and credibility for our client's businesses.
In addition to on-page and off-page optimisation, we ensure that our client's websites are mobile-friendly and have fast loading times. Search engines prioritise websites that provide a positive user experience, and these factors contribute significantly to that experience. By providing a website optimised for search engines and user-friendly, we help our clients achieve their online marketing goals.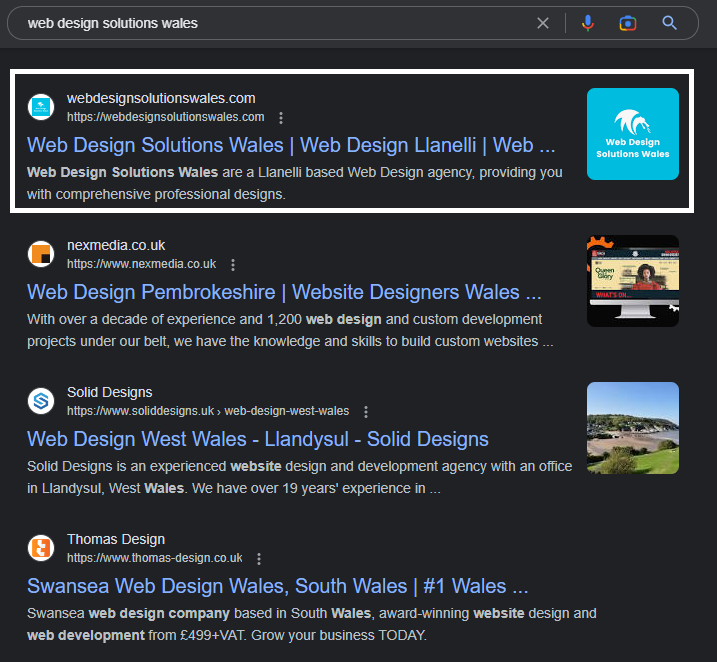 We understand the impact of social media on modern business and recognise the importance of incorporating social media marketing into our clients' online strategies. Our social media marketing service includes:
Creating and managing social media profiles on relevant platforms.

Engaging with followers to build a solid online presence.
We work with our clients to develop social media strategies that align with their business goals and target audience. We create engaging content that resonates with followers and drives traffic to our client's websites. Our team also monitors social media metrics to track progress and adjust strategies as needed to ensure maximum impact.
With our social media marketing service, we help our clients stay top-of-mind with their customers and prospects, establish themselves as thought leaders in their industry, and ultimately drive sales and revenue growth.
Web Design Solutions Wales also offers Pay-Per-Click (PPC) advertising as part of our digital marketing services. Our PPC service includes keyword research, ad copy creation, campaign management, and reporting. We work closely with our clients to ensure that their PPC campaigns are targeted and effective and deliver a strong return on investment.
Our PPC experts use data-driven strategies to create and manage campaigns across various platforms, including Google Ads, Instagram & Facebook Ads, TikTok Ads and others. We constantly monitor and optimise campaigns to improve performance and ensure that our client's advertising budget is used efficiently.